About Sanako Language Lab Why Sanako Language Lab? Testimonials Resources FAQs
Traditional methods of language teaching in classrooms are unable to provide equal opportunity to all students as Language Skills are acquired through extensive practice. Technology is now influencing pedagogical choices and with this conviction, Ecole Solutions provides Language Learning solutions where Language is taught as a tool for communication through a blend of following approaches:
Theme based learning: Courses organized by purpose, topics or themes
Skill-based learning: Listening, Speaking Reading and Writing skills (LSRW) are taught simultaneously, simulating real life experiences
Task-based learning: Performing real-life communicative tasks to enhance language learning
In partnership with Sanako, Finland, a world leader with over 50 years of experience in Language teaching technologies, Ecole Solutions offers its customers a choice of Language Labs to suit different needs and budgets. Sanako Study 1200, Sanako Study 700 and Lab 100 are the most preferred products in the Indian market.
The Platform
The Language Lab platform is uniquely designed to facilitate several activities which help in acquiring the required skills.The following graphic presents a functional overview of the systems capabilities: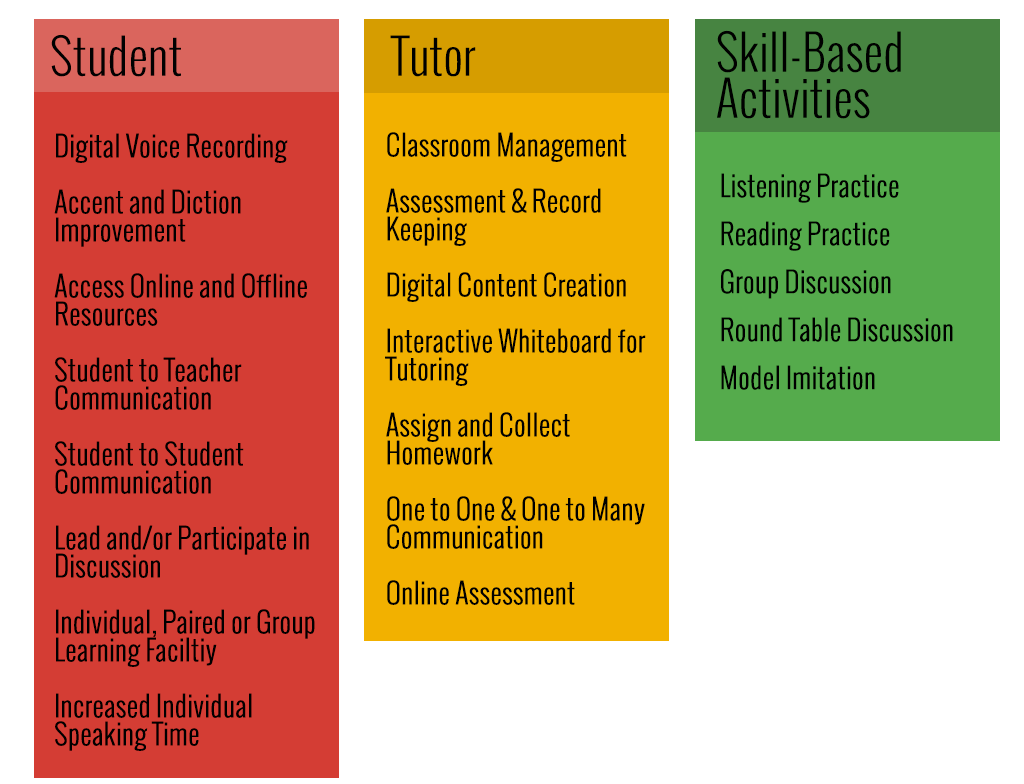 Exam Module
The Sanako Study Examination module is a valuable addition to the Language Lab software that helps language teachers author assessments quickly and easily to assess students in a number of ways.
Create interesting tests – allows the use of audio, video, images and text to be used in questions
Easy-to-use guides for creation of the test
Saves time by automatically generating results for both teacher and students
Enables variety of exams and tests contains a number of options for question types – True or False, Multiple Choice Questions, Checklist, Hot Spot, Drag and Drop, Fill in the Blanks, Match the List, Combo Box List, Edit Combo Box List, List Box List, Short Answers
Questions are displayed with Exam Player
Simple and clear interface makes it easy to use
English Content for Sanako Study
While the platform allows Language Teachers to create and use their own content as relevant to the students in the class, Ecole Solutions also offers 200 hours of content supporting all the activities presented in the graphic above. Content is available for various levels including Elementary English, Beginners, Intermediate and Advanced Learners. Phonics, vocabulary general and specific, reading comprehension passages, listening passages, thematic topics are some of the areas covered to cater to all four language skills namely listening, speaking, reading and writing.